ACADEMY OF ESPRESSO SAQUELLA
Quality is at centre of the company philosophy, consolidated over a hundred years of experience, and still today this fundamental value inspires every chosen strategy.
Quality, sought for and achieved in all stages of the production process up to the service in cup. For this reason Saquella 1856 has created the Academy of Espresso and organises courses aimed at both the world professional baristas and all those who wish to widen their knowledge about the world of coffee.
In this way tradition and experience are shared with anyone who wants to be able to serve a perfect espresso or cappuccino every time.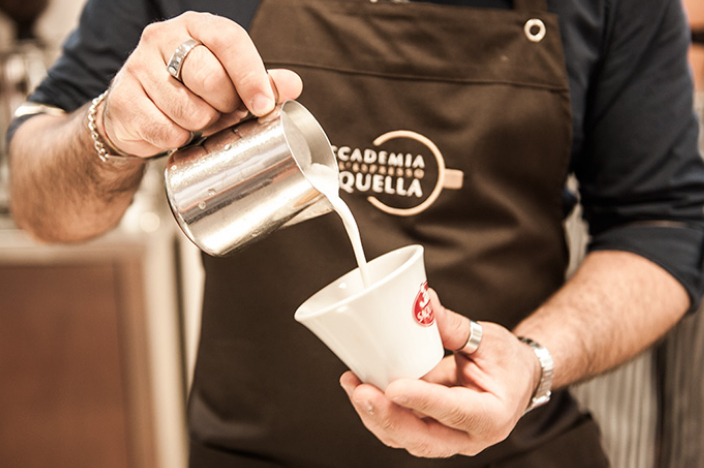 Courses of Academy
Our courses are aimed at all those who wish to deepen their knowledge on the world of coffee and those who simply want to excel as a professional barista.
Basic Course
Course of introduction on basic skills that every barista should acquire at the beginning of his career. Suitable for beginners baristas, with little or no experience, this course provides.
Duration: 6 h
Max: 12 attendees
MORE INFORMATION
Latt Art
Practical course suitable for all baristas with experience that already have the basic skills for the emulsion of milk. The course is focused on the characteristics of the milk and the techniques for the realization of the most complex and original designs in the cup.
Duration: 6 h
Max: 12 attendees
MORE INFORMATION
Basic Course

Latt Art

Specialty Coffees
To register for a course, click on the date that interests you in the calendar.
---
Do you want more information on the Courses of the Saquella Academy?
Find out more about the Academy Espresso Saquella offer, consult our catalogues and be a part of this family.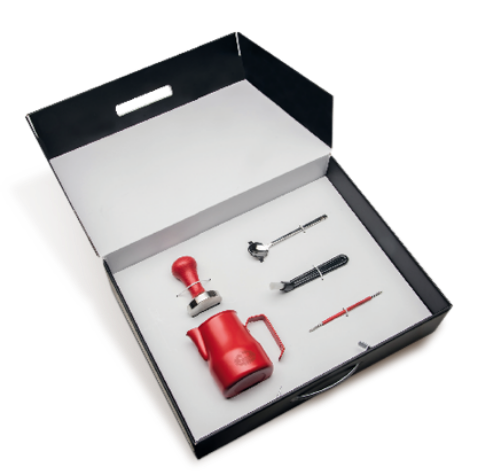 Styling items have produced, consisting of professional clothing and a perfect bartender kit, to support the academy activity.
Bartender kit
1 redwoodenhandlepress, diameter58mm, stainlesssteelbase
1 brushclean
1 tastingspoon
1 professionalmilk jug
1 professionalart latte pen
Discover the Accessories line reserved for the Academy
Go